Dr. Woodruff's passion for women's health and reproductive science research has led to a number of high awards and honors.  Widely recognized for her work, Woodruff holds 10 U.S. Patents, and in 2013 was named to Time magazine's 'Most Influential Persons' list. Some of her recent awards and honors include the  Journal of Women's Health Award for Outstanding Achievement in Women's Health Research (2017), being elected to the College of Fellows at the American Institute for Medical and Biological Engineering (AIMBE) (2017), the Society for Endocrinology Transatlantic Medal (2017), and being inducted as an elected Fellow of the National Academy of Inventors (2018). 
Notably, she also received the U.S. Presidential Award for Excellence in Science Mentoring (2011), the Beacon Award from Frontiers in Reproduction (2013), the Vision and Impact Award from the Weizman Institute (2012), an Alumni Association Merit Award from Northwestern (2012), the Distinguished Woman in Medicine and Science from Northwestern (2009), Feinberg School's Faculty Mentor of the Year (2009), and was named Northwestern Universities Distinguished Alumnae (2008). 
Honorary Degrees and Addresses
The Endocrine Society honored Dr. Woodruff's achievements with the 2017 Outstanding Leadership in Endocrinology Award. 
Dr. Teresa Woodruff received the honorary Doctor of Science MD from the University of Birmingham, UK, and delivered the 2016 commencement address to the graduating class.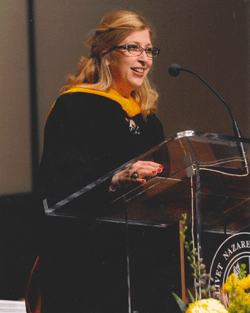 Bates College, in Lewiston, Maine, celebrated the work of Dr. Teresa Woodruff with an honorary degree on May 30, 2010. During the 2010 Commencement activities, Dr. Woodruff spoke to the graduating class and their families about how the Oncofertility Consortium® brings hope to young cancer patients across the globe. She also discussed the tools that Bates graduates can utilize to become the leaders of the 21st century.To view her commencement address, click here.
In 2012, Dr. Woodruff visited her alma mater, Olivet Nazarene University to deliver the commencement address. "At Olivet, I learned how to collaborate and coordinate," Dr. Woodruff said to the Class of 2012. "As you leave this place, you will meet emerging needs in our society. We are counting on you to become the thought leaders and doers of this century." Dr. Woodruff is the first scientist to deliver the keynote address for this event. In 2016, she received the Lay "O" Award from the Alumni Board of Olivet Nazarene University.
Endocrine Society President 2013-2014
Dr. Woodruff was inaugurated as president of the Endocrine Society- the world's oldest, largest, and most active organization devoted to research on hormones and the clinical practice of endocrinology. She was handed the gavel at their 95th Annual Meeting at the end of June, 2013.
"Worldwide, the endocrinology community is facing a variety of challenges, including the colliding epidemics of obesity and diabetes, growing awareness of the health risks associated with endocrine-disrupting chemicals, the tension between global population expansion and personal reproductive needs, and the need to support scientific research in an environment with limited resources," said Woodruff, also the Thomas J. Watkins Memorial Professor of Obstetrics and Gynecology. "As president of the Endocrine Society, I am looking forward to working with the talented clinicians and researchers in our membership to develop tactics and offer continued scientific leadership to address these issues."
Please see below for a complete list of Dr. Woodruff's Awards and Honors:
2018-Elected Fellow, National Academy of Inventors (NAI)
2017- Journal of Women's Health Award for Outstanding Achievement in Women's Health Research, 25th Anniversary Congress on Women's Health, Academy of Women's Health
2017-Elected to College of Fellows, American Institute for Medical and Biological Engineering (AIMBE)
2017-Society for Endocrinology Transatlantic Medal
2017-Laureate Award, Outstanding Leadership in Endocrinology, Endocrine Society
2016-IDP Sherman Fairchild Foundation Research Innovation Challenge Award
2016-Honorary Doctor of Science, University of Birmingham, College of Medical, UK
2016-Lay "O" Award, Alumni Board of Olivet Nazarene University
2013-Time Magazine 100 Most Influential People in the World (Voted 112th)
2013-Visionary Leadership Award, University of San Francisco, California
2013-Beacon Award, Frontiers in Reproduction
2012-Visionary Award, Fertile Action
2012-Commencement Address, Olivet Nazarene University
2012-Vision and Impact Award, Weizman Institute of Science
2012-Alumni Association Merit Award, Northwestern University
2011-Presidential Award for Excellence in Science, Mathematics, and Engineering Mentoring, presented in the Oval Office
2010-Tripartite Legacy Award, Feinberg School of Medicine, Northwestern University
2010-First Annual Girl Power Award Recipient, Young Women's Leadership Charter School of Chicago
2010-Honorary Degree Recipient, Bates College, Lewiston, Maine and Commencement Address
2009-Mentor of the Year, Women Faculty Organization, Northwestern University
2009-Gender Equity Award, American Medical Women's Association (AMWA)
2009-The Distinguished Woman in Medicine and Science, Northwestern University
2008-Innovator Award, Association of Women in Science (AWIS)
2008-Alumnae Award, The Alumnae Association of Northwestern University
2007-Thomas J. Watkins Endowed Professorship, Feinberg School of Medicine
2007-Distinguished Service Award, Speaking of Women's Health
2006-Young Women's Leadership Charter School of Chicago Commencement Address
2006-Fellow, American Association for the Advancement of Science
2006-Elected to the American Association for the Advancement of Science
2000-Richard E. Weitzman Memorial Award, The Endocrine Society
2000-Distinguished Teaching Award, Northwestern University
1988-NRSA Training Award, National Institutes of Health
1988-Cornelia Post Channing Memorial Award, VII Ovarian Workshop
1988-Graduate Scientist Award, Sigma Xi, Northwestern University
1987-Graduate Fellow Award, Abbott Laboratories
1985-Outstanding Biochemistry Student Award, American Institute of Chemists
1985-Merit of Excellence Award, Associated Colleges of the Chicago Area
1985-Maggie Sloan Award (highest honor given to a graduating senior woman), Olivet Nazarene University