From K to Gray...a Lifetime of Learning in the Woodruff Lab
Education has always been a primary focus of the Woodruff lab. From kindergarteners to adults of all ages, we open our doors to all those who possess a passion for science and medicine. Our educational initiatives are outlined below.  
Cancer Smashers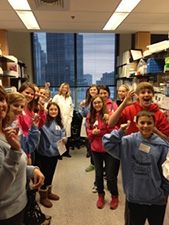 Cancer Smashers is a group of young people motivated to end cancer by raising money for cancer research. Every year, these kids, ages 5-18, donate Christmas presents to children undergoing cancer treatment at Lurie Children's Hospital. 2012 was the second year that we welcomed them into the lab to learn a little bit about the basic science of cancer research and oncofertility. The kids participated in fun lab activities such as "Delicious DNA" (we extracted DNA from strawberries, and talked about the importance of DNA in preventing normal cells from becoming cancerous) and "Artificial Ovaries" (we learned how scientists like Dr. Woodruff are working on ways to preserve fertility in young cancer patients by removing the follicles and culturing them outside the body). 
CPS Science Fair
Chicago Public Schools holds an annual citywide science fair where hundreds of students, grades 6-12, present their science projects. The Teresa K. Woodruff Middle School Science Fair Award was created to support women in science by honoring the work of a female CPS middle-school student. Last year's award recipient was Emma VanZale, a 7th grader from Chicago's Andrew Jackson Language Academy. In addition to a $50 prize, Emma won a half-day in the lab, learning how scientists conduct real research. She also go to meet with Dr. Woodruff to discuss her project and learn about oncofertility.
iExperiment
Imagine collaborating with researchers from across the country and being able to not only video conference with them, but also see the experiments they are conducting under microscopes in real time. This technology, called iExperiment, is part of a suite of new applications developed by Northwestern University Information Technology (NUIT) and the Oncofertility Consortium. iExperiment is a portal where scientists can watch and participate in experiments that are taking place around the globe.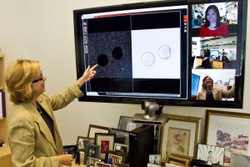 Lindblom Lab Visit
On Wednesday, 20, 2013, the Woodruff lab hosted four Linblom high school students and their teacher for a day of experimentation.  The students read one of Dr. Woodruff's papers and wrote a proposal for an experiment based on this paper.  These students prepared samples in the lab that they will take to Argonne National Laboratory in March.
Oncofertility National Science Education Network (ONSEN)
Dr. Woodruff initiated the Oncofertility National Science Education Network (ONSEN) in an effort to help attract, prepare and retain female high school students in science majors and careers. ONSEN features educational programs in oncofertility that have been developed and implemented in Oncofertility Consortium ® sites across the United States. The first oncofertility educational program, named the Oncofertility Saturday Academy (OSA), started in Chicago in 2007 and is currently part of the Women's Health Science Program (see below). Additional sites include University of San Diego in San Diego, California, Oregon Health & Science University in Portland, Oregon, the University of Pennsylvania in Philadelphia, Pennsylvania. The University of Colorado Health Sciences Center in Denver, Colorado is initiating a new program in 2013!
Oncofertility Summer Research Fellowships
The Oncofertility Summer Research Fellowships (OSRF) originated in 2009 to expose local area high school science teachers to the cutting-edge research conducted in the Woodruff lab.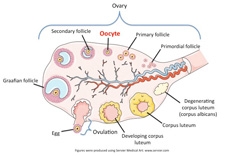 A parallel undergraduate OSRF program was also initiated to provide college students with a summer internship opportunity that would foster the knowledge and skills to succeed in science in college and beyond. Click here to learn more.
Repropedia
The general public and students have incomplete comprehension of reproductive science terminology, which creates barriers to discussions about reproductive biology and health and makes healthcare decision-making difficult. To address this need, the lab, in conjunction with the Center for Reproductive Research at Northwestern University, created Repropedia, a website that is curated by members of the global reproductive science community and serves as an authoritative source of definitions for reproductive health. 
USA Science and Engineering Festival
The mission of the USA Science & Engineering Festival is "to re-invigorate the interest of our nation's youth in science, technology, engineering and math (STEM) by producing and presenting the most compelling, exciting, educational and entertaining science gatherings in the United States." The Woodruff lab, in partnership with the Center for Reproductive Research, has participated in this national festival since its inauguration in 2010. Our exhibit, entitled "Just Bead It," focused on a lab activity we use to teach students about Oncofertility - making alginate beads. In its first two years, the USASEF has welcomed over 650,000 attendees!  Needless to say, our booth was very busy!
Women's Health Science Program (WHSP)
The Women's Health Science Program (WHSP) for High School Girls & Beyond to provide science education programs to females from underserved communities.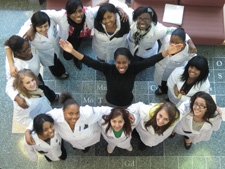 WHSP targets young women who are considering careers in science and medicine and prepares them with valuable knowledge and skills to successfully become the next generation of women science leaders.  WHSP encompasses three academies: Oncofertility Saturday Academy (OSA), Infectious Disease Summer Academy (IDSA), and Physical Science Weekend Academy (PSWA). These academies are held at different times throughout the year, and application is open to to 9th -12th grade students in Chicago Public Schools. To learn more, visit the WHSP website, click here to visit the program website.
Oncofertility Sudan Academy