The Woodruff Lab wants to ensure that research on ovarian and women's health is disseminated to the greater community. Members of the traditional and digital media have aided in this mission by covering our work. These include: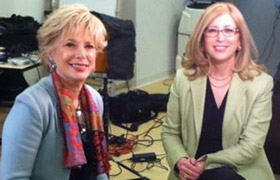 60 Minutes
Lesley Stahl interviews with Teresa Woodruff and Melina R. Kibbe, MD to discuss the importance of sex and gender-based research. Topics include the importance of increasing the rate of scientific discovery, which impacts women's health and well being. The broadcast will air in the Fall of 2013. 
TIME Magazine
The TIME article, "Fertility and Cancer: Surviving and Having Kids Too," discusses the reproductive impact of cancer treatment, how fertility preservation options can lead to a fertile future for young women, and the personal story of a patient who preserved her fertility with the oncofertility team at Northwestern. in 2013, Dr. Woodruff was also named 112th on Time's List of 100 Most Influential People.
New York Times Editorial
In response to a recent New York Times article "Budget Battles Keep Agencies Guessing" (Business Day, September 4, 2013), Dr. Teresa Woodruff wrote the following response: Sequestration is about more than red tape and bureaucracy. Huge budget cuts threaten the lives of millions of patients counting on medical innovation.
By slashing investments in medical research, the government hinders efforts to develop treatments for diabetes, cancer, infertility, osteoporosis, hypertension and thyroid conditions. Because of cuts in financing, my lab will not be able to examine important questions about how environmental pollutants have an impact on reproductive health. That is a disservice to the public living in contaminated communities and a career buster to students interested in reproductive biology.
When laboratories lose financing, they lose people, ideas, innovations and patient treatments. Our government leaders must prioritize biomedical research. We can't afford to lose the health advances made through research financed by the National Institutes of Health and the people power behind those discoveries!
TedEx (http://www.tedx.northwestern.edu/)
The TedEx event explores how multidisciplinary teams work together to understand the complicated process of fertility and investigates questions such as:
Why is the mystery of life so complex?
Why do we need chemists, biologists, ethicists and engineers to unravel this mystery?
How do we facilitate relevant research that transcends the boundaries of established disciplines?

New York Times
The New York Times article "After Cancer, Fertility Is Often Within Reach", discusses fertility preservation options for young cancer patients and the promising future of a new delivery system for chemotherapy that delivers drugs in microscopic bubbles, or nanobins, that dissolve once inside the acidic environment of a tumor, sparing the reproductive organs. "Today 80 percent of kids will survive," Dr. Woodruff said. "Now that patients are thriving and have decades of life ahead of them, fertility is a high priority for them."
Delta Sky Magazine
Dr. Woodruff discusses the importance of sex-differences and the emergence of studying gender at the bench in the article "The Gender Divide". "We're at a really important juncture in science and medicine where so many new discoveries are being made, and it's very important that we are looking at male and female biology to make sure the next generation of advances can be done in a sex-specific way."
For a complete list of Dr. Woodruff's newsworthy headlines, visit the News Archive and Press Releases.