The Woodruff Lab wants to ensure that research on ovarian and women's health is disseminated to the greater community. Members of the traditional and digital media have aided in this mission by covering our work. These include:
"Amid cancer battle, 8-year-old's ovarian tissue is stored for future time when she'd have babies" - The Kansas City Star, February 5, 2017 "The reason that fertility has come up as such an important issue is that many people are surviving their cancers," Woodruff said.
"Celebrating Sex Inclusion in Biomedical Research" - Northwestern Medicine, Feinberg School of Medicine, January 31, 2016 Scientists from throughout the Northwestern Medicine community and beyond came together to celebrate the one-year anniversary of the implementation of the National Institutes of Health's (NIH) landmark sex-inclusion policy at a symposium on January 25.
"The importance of sex inclusion in research" - Northwestern U Youtube, January 27, 2016
"Managing Breast Cancer in a Pregnant Patient" - ASCO Post, January 25, 2016
"Optimizing Access to Fertility Preservation Options" - ASCO Post, January 25, 2016
"Zinc spark shows sperm the chequered flag" - Chemistry World/Royal Society of Chemistry, January 26, 2017 Researchers shed light on new explanation for how mammalian zygotes safeguard their survival
"Trans patients, looking for fertility options, turn to cancer research" - PBS Newshour, January 22, 2017 Corinne Segal discusses fertility research options for trans kids.
"One year of sex-inclusive research celebrated at Jan. 25 symposium" - Northwestern Now, January 2017 Kristin Samuelson discusses the celebration of the NIH's landmark sex-inclusion policy.
Teresa K. Woodruff is highlighted in the 2016 "Season's Grettings from Northwestern" Year in Review video for advancements in women's health.
"These Are the Illinois Researchers That Wowed Us In 2016" - ChicagoInno, December 2016 Ramille Shah, Monica Laronda, Teresa Woodruff and Aleandra Rutz are featured for 3D printing ovaries.
Top 100 Stories of 2016: #47 "Spark of Life" - Discover Magazine, January/February 2017 Scientists at Northwestern University announed in April that they had recorded flashes of light from human eggs that may be an indicator of egg quality. 
"Reproductive Health as a Marker of Subsequest Cardiovascular Disease" - JAMA Cardiology, October 2016 Cardiovascular disease (CVD) kills 1 in 3 women worldwide, and the risk of SCD increases markedly after the cessation of ovatina function at menopause.
"Hope for Fertility - in the Face of Cancer" - Northwestern Magazine, Winter 2016 In the Winter 2016 of Northwestern Magazine, Karen Springen discusses the world of Teresa Woodruff in a faculty profile. "Through pioneering research in Oncofertility, Reproductive Endocrinologist Teresa Woodruff offers young cancer survivors options to have children."
"Banking on Hope - Cryoresearch Could Give Cancer Survivors a Shot at Motherhood" - Discover Magazine, September 2016 Young women diagnosed with cancer face yet another challenge: infertility. Experiemental cryoresearch could restore their chance at motherhood. In September's issue of Discover Magazine, Katherine Kornei discusses this challenge. "A lot of the work we were doing in our lab could turn around this disparity," Dr. Teresa K. Woodruff says.
Artificial ovary may boost fertility and postpone the menopause September 7, 2016- In this article from New Scientist, Andy Coghlan discusses how a synthetic ovary could help both older women and those with endometriosis conceive. 
NIH Director Visits Northwestern to Discuss Importance Of Research Funding September 2, 2016- In this article from Northwestern Medicine News Center, Kristin Samuelson discusses the National Institutes of Health (NIH) Director Fracis Collins and Illinois Sen. Dick Durbin (D-IL)'s recent visit to Northwestern. 
Meet The Northwestern Research Team Working On 3D Printed Ovaries August 29, 2016- In this article from ChicagoInno, Karis Hustad discusses how researchers at Northwestern University Feinberg School of Medicine recently announced their use of 3D printing to create a prosthetic ovary, and suvvessfully transplanted the organ into mice.
Drug-free IVF could be cheaper and faster way to get preagnant August 23, 2016- In this article from Daily News, Jessica Hamzelou discusses a breakthrough for cheaper, faster, drug-free IVF. "This is certainly exciting" says Teresa Woodruff at Northwestern University in Illinois. "Cumulin may be an important missing link in IVF medium used in the lab."
Oncofertility experts help physicians, patients understand reproductive consequences of cancer treatment August 15, 2016- This article from Healio-HemOnc Today features an interview with Dr. Teresa K. Woodruff, PhD, about the oncologist's role in discussing fertility preservation with their patients, as well as how clinicians can address concerns such as cost of care. 
Stupid Cancer Road Trip
Stupid Cancer, a nonprofit organization for young adults battling cancer, visited Northwestern on their Stupid Cancer Road Trip. They connected with Kristin Smith, the Fertility Preservation Patient Navigator, and investigated the "magic" made in the Oncofertility Consortium. Click here to watch the video.
Her Campus
Her Campus provides advice, relevant information, and resources for empowered college women. The work of Dr. Woodruff is featured in one of these articles. The story can be viewed here. 
The Zinc Spark
Scientific Reports released a new publication by Francesca Duncan, PhD, Emily L. Que, PhD, Nan Zhang, PhD, Eve C. Feinberg, MD, Thomas V. O'Halloran, PhD, and Teresa K. Woodruff, PhD, entitled "The zinc spark is an inorganic signature of human egg activation." The article describes the prominent "zinc spark," that occurs the moment the sperm activates the egg. Read the media's enthusiastic response:
The Telegraph (U.K.)-"Bright flash of light marks incredible moment life begins when sperm meets egg"
FOX News-"Scientists witness 'flash of light' during conception, say discovery could aid IVF"
U.S. News & World Report-"During Conception, Human Eggs Emit Sparks"
UPI-"Human eggs celebrate insemination with flash of zinc fireworks"
CBC News (Canada)- "Fertilized human egg emits microscopic flash of light"
Metro (U.K.)-"Sexual fireworks-scientists capture 'flash' of sperm meeting egg for first time"
Daily Mail (U.K.)-"Sparks really do fly: Scientists discover flash of light when new life is formed at the moment a sperm meets an egg"
Belfast Telegraph-"Bedroom 'fireworks' discovery could help boost IVF process"
Newsweek-"New Technique Shows 'Sparks" Fly At Moment Of Conception"
IFL Science-"Scientists Just Captured Something Extraordinary At The Moment of Fertilization"
Mic-"These Are the Actual "Fireworks"in Your Body That Happen When You Get Pregnant"
Inquisitr-"Spark of Life: Amazing Discovery Shows Bright Flash of Light the Moment Life Begins"
Montreal Gazette-"The 'remarkable' bright flash of light at the moment of human conception-caught on film for the first time"
NH Voice-"Zinc Sparks from egg cells can unveil particular set of eggs can be used in IVF"
3D-Printed Ovary
A collaboration with the Woodruff Lab and Shah Lab has resulted in the restoration of fertility in mice with 3D printed ovaries. Monica Laronda, PhD of the Woodruff Lab presented the results of the team's procedures at the annual Endocrine Socitey meeting in Boston in April 2016. Media coverage of this work is below:
Endocrine Society-"Engineered Ovary Implant Restores Fertility in Mice"
Forbes-"Scientists At Northwestern Restore Fertility in Mice With 3D-Printed Ovary"
Chicago Tribune-"Scientists can 3D print working mouse ovaries. What else can they do?"
The Daily Northwestern-"Northwestern scientists use 3D printer to creat prosthetic ovary"
Gizmag-"Could 3D-printed ovaries help treat fertility?"
Digital Trends-"Mice With Implanted 3D Printed Ovaries Birth Healthy Pups"
Singularity Hub-"New 3D Printed Ovaries Allow Infertile Mice to Give Birth"
Science Daily-"Engineered ovary implant restores fertility in mice"
ChicagoInno-"3D Printing Body Parts: Northwestern Prints Prosthetic Ovary" 
Reuters
"Fertility issues for cancer patients can also bring legal headaches" discusses the legal issues and reproductivve health concerns for oncocfertility patients, citing the recently published article in JAMA Oncology from Dr. Woodruff, Dr. William Gradishar, and Kristin Smith.
Big Ten Network
During football and basketball games, BTN LiveBIG will spotlight notable examples of research, innovation and community service from around the conference. The work of Dr. Woodruff and the Oncofertility Consortium is featured in one of these spots. The story and video can be viewed here.

Northwestern Graduate School
As a graduate of the Northwestern Graduate School, Dr. Monica Laronda is highlighted in a Spotlight story on the school's website.
Chicago Tribune
The editorial "Only male subjects in basic science research? Not anymore" features Dr. Woodruff commenting on the  2014 National Institutes of Health policy that requires scientists to begin using female lab animals, which takes full effect January, 2015. Click here to read more.
Chicago Tribune
Dr. Woodruff has interviewed for the article, "Sexually transmitted infections continue to strike young adults", in the Chicago Tribune discussing the importance of comprehensive sexual health education. "Many students arrive on college campuses without having taken a sex ed class since middle school," she said. And even though they may be sexually active, "having sex is not the same as knowing how it all works," said Woodruff, noting that 1 in 4 college students has an STI. "They just aren't getting authoritative information."

2015 Northwestern Scientific Images Contest
Each year scientists across Northwestern submit images from their work which are then judged by a panel of artists, scientists and community leaders. The first place winners of 2015 included a collaborative team of Dr. Monica M. Laronda of the Woodruff Lab and Dr. Adam Jakus of the Shah Lab. The image centers on a mouse ovarian follicle (in purple). An ovarian follicle is made up of a developing egg and its surrounding support cells. Normally follicles develop within healthy ovaries, but they can be damaged by harsh cancer therapies. Healthy follicles can be removed before patients undergo treatment, but afterward these saved follicles often struggle to grow into healthy eggs. Please click here to view the photo and learn more of their work.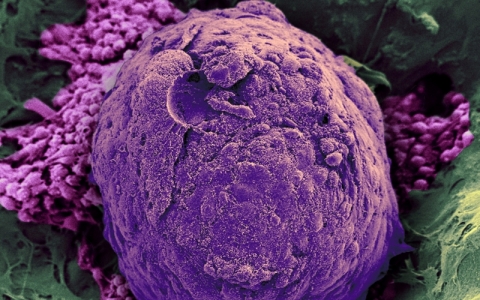 Burroughs Wellcome Fund Award
Dr. Monica M. Laronda is one of twelve investigators that received Career Awards at the Scientific Interface from the Burroughs Wellcome Fund.  There were 245 eligible pre-proposal applications received for the twelfth cycle of this award program. Dr. Laronda will receive a grant of $500,000 over five years to fund her project, which focuses on "Engineering an artificial ovary to restore fertility and endocrine function in cancer survivors". This award recognizes the vital role that cross-trained scientists will play in furthering biomedical science and is intended to foster the early career development of researchers.  - See more at: http://www.tgs.northwestern.edu/resources-for/postdocs/news-events/stories/2015/bwf-award-recipients.html#sthash.ZQBHcdw9.dpuf 
Burroughs Wellcome Fund Awards
Burroughs Wellcome Fund Awards
"Introduction to Reproduction"
Dr. Woodruff has created "Introduction to Reproduction" (or "sex 101″), a Massive Open Online Course (MOOC), that lets students (either from Northwestern University or from anywhere) tune in to lessons that includes comprehensive information about sex organs, birth control, fertility and sexually transmitted diseases. "While targeted to incoming freshman, anyone around the world is welcome to watch the classes," said Dr. Woodruff. Media coverage of this course is below:

WTTW – Chicago Tonight-"Let's Talk About Sex-with 3D Animation"
MTV News-"A Free Online Class Is Making Up For Your High School's Sex Ed Fails"
Chicago Tribune-"Birds, bees and beers: Sex Ed 101 arrives at Northwestern"
Fox News-"Northwestern University offering sex education for incoming freshmen"
The Washington Post-"The birds, the bees, beers and STDs: Sex 101 begins at Northwestern University"
Northwestern-"Sex 101' demystifies reproductive health for first-year students"
Gizmodo-"Frustrated College Professors Launch Their Own Sex Ed MOOC"
The Conversation-"College students go online to learn about sex"

DiscovHER
In a recent editorial, "Oncofertility: Motherhood After Cancer", Dr. Woodruff discusses with DiscovHER her inspiration to form the Oncofertility Consortium, the importance of transdisciplinary teams, and her experience as a female scientist.

Northwestern Law
Dr. Woodruff served as a panelist for Northwestern Law's "Bridges not Barriers: The Law-STEM Alliance as a Catalyst for Innovation" conference. The conference explored the role of law, policy, and regulation in the innovation process; and the role of scientists, engineers, and entrepreneurs in the process of law and policy-making. A video of Dr. Woodruff's panel session can be seen here.
Chicago Medicine
Dr. Woodruff and Dr. Kibbe's opinion piece on the postitive implications the new NIH policies for sex inclusion have on scientific research (and ultimately personalized medicine) is featured in Chicago Medicine. Click here to view the PDF of this issue.
Northwestern University Feinberg School of Medicine News Center
The research of Dr. Woodruff and Dr. Monica Laronda is featured in "Ovary Transplantation Shows Promise for Restoring Cancer Survivor Fertility". "We knew that transplantation was a promising possibility, but we didn't want to use the patient's own tissue," Laronda said. "So we looked into regenerative medicine technologies being used in other systems, which led us to decellularization."
Science Translational Medicine
An editorial featuring the work Dr. Woodruff, Woodruff Lab member Monica Laronda, and colleagues appears in the journal Sceince Translational Medicine. This piece, "Tissues engineering the origins of life" discusses the team's research recently published in Biomaterials (M. M. Laronda et al., Initiation of puberty in mice following decellularized ovary transplant. Biomaterials 50, 20–29 (2015). [Abstract])
ACS Chemical Biology
The latest issue of ACS Chemical Biology features a Spotlight, "Zinc Sparks Embryo Development", on the work of Dr. Woodruff and Dr. O'Halloran.

Live Science
The work of Dr. Woodruff, Dr. O'Halloran and their team is featured in the article, "Facts About Zinc", to discuss the important discovery of the "zinc spark" at the time of fertilization. Dr. Woodruff described how this research can help women dealing wiht infertility. "In IVF [in vitro fertilization], you need to be able to select which egg has the highest likelihood of giving rise to a healthy offspring," she said.
National Institute of Environmental Health Sciences-Environmental Factor
Dr. Woodrufff is featured in the NIEHS newsletter, Environmental Factor, which discusses the newly awarded grant to develop an ex vivo microfluidic reproductive tract model. "With tissue chip grants awarded in 2012 and 2014, other tissue culture developers are working on models, such as heart-liver-vascular systems, circulatory system and integrated muscle tissue, neurovascular system, kidney, stem cells, and specific diseases and disease processes. These models represent an important step toward integration of individual organs and systems into a so-called human-on-a-chip model for mimicking health effects throughout the human body."
FOX 32 News Chicago
The news segment "Making babies starts with fireworks" from Fox 32 News Chicago, again features Dr. Woodruff discussing her team's discovery of zinc sparks at the moment when an egg and sperm meet. The presence of zinc and those "fireworks" at time of fertilization ultimately help us understand an eggs chances of developing into a healthy embryo. "This is also really critical for reproductive health, for normal reproductive function as well as for those millions of couples who face infertility every year, this is going to give us a better insight on why that infertility exists," Dr. Woodfruff said.
WGNTV
WGNTV filmed Dr. Woodruff and the lab for a news segment to discuss the recent findings of the zinc sparks that occur at fertilization. Dr. Woodruff: "It's a really strong indication that this egg is competent to go through the remaining stages of embryogenesis, to make a live, healthy offspring." The news segment can be viewed here.
Slate
Researchers at Northwestern knew fertilization triggered millions of zinc particles, but they'd never actually seen the process until now.
The Huffington Post
'Sparks' Really Do Fly When Egg And Sperm Hook Up-"The egg first has to stockpile zinc and then must release some of the zinc to successfully navigate maturation, fertilization and the start of embryogenesis," Dr. Thomas V. O'Halloran, a professor of chemistry and molecular biosciences at Northwestern University in Chicago and one of the scientists, said in a written statement.
The Daily Mail
Sparks really DO fly when a new life is created: Stunning images reveal moment egg releases billions of 'zinc sparks' as it is fertilised. The Northwestern University-led interdisciplinary research team are the first to capture images of these molecular fireworks and pinpoint the origin of the zinc sparks: tiny zinc-rich packages just below the egg's surface.
Science Codex
Stunning zinc fireworks when egg meets sperm- Sparks literally fly when a sperm and an egg hit it off. The fertilized mammalian egg releases from its surface billions of zinc atoms in "zinc sparks," one wave after another, found a Northwestern University-interdisciplinary research team led by Dr. Woodruff, that includes experts from the U.S. Department of Energy's Advanced Photon Source at Argonne National Laboratory.
Financial Express
A Northwestern University-led interdisciplinary research team used cutting-edge technology to capture images of these molecular fireworks for the first time and pinpoint the origin of the zinc sparks: tiny zinc-rich packages just below the egg's surface.
RedOrbit 
"Zinc Sparks" Fly During Human Conception. "The amount of zinc released by an egg could be a great marker for identifying a high-quality fertilized egg, something we can't do now," Northwestern University professor Teresa K. Woodruff, an expert in ovarian biology and one of two corresponding authors of the paper, said in a statement.
Health Canal
Stunning Zinc Fireworks When Egg Meets Sperm. The fertilized mammalian egg releases from its surface billions of zinc atoms in "zinc sparks," one wave after another, a Northwestern University-led interdisciplinary research team has found.
Phys Org
Stunning zinc fireworks when egg meets sperm. Sparks literally fly when a sperm and an egg hit it off. The fertilized mammalian egg releases from its surface billions of zinc atoms in "zinc sparks," one wave after another, a Northwestern University-led interdisciplinary research team has found.
ZME Science
Sparks Literally Fly When the Egg Meets Sperm, Spectacular Images Show. Northwestern University scientists had a hunch that this might be the case, so in order to prove their theory, they invented a new fluorescent sensor that is able to track the movements of zinc in live cells.
The Inquisitr
'Just Like Tiny Fireworks' – Scientists Capture Stunning Images Of The Moment Of Conception. Researchers at Northwestern University have made a stunning discovery that gives new insights into the moment of conception.
The Raw Story
'Zinc sparks' fly during human conception. "The amount of zinc released by an egg could be a great marker for identifying a high-quality fertilized egg, something we can't do now," Northwestern University professor Teresa K. Woodruff, an expert in ovarian biology and one of two corresponding authors of the paper, said in a statement.
Discover News
Sparks Literally Fly When Sperm Connects With Egg : DNews."The amount of zinc released by an egg could be a great marker for identifying a high-quality fertilized egg, something we can't do now," co-author Teresa Woodruff, an expert in ovarian biology at Northwestern University, said in a press release.
Chemical and Engineering News
Team Finds Source Of Zinc Sparks Released During Egg Fertilization. Researchers led by chemist Thomas V. O'Halloran and biologist Teresa K. Woodruff, a husband-and-wife team at Northwestern University, recently examined mouse eggs with a combination of live-cell imaging and elemental mapping and determined that these sparks originate from vesicles located near an egg's outer membrane
National Geographic
The online article "Why It's Crucial to Get More Women Into Science" features Dr. Woodruff commenting on the importance of sex inclusion in science and research and the NIH's recent policy regarding this issue. "This is categorically the most important thing to happen at NIH, and therefore for the long-term health of America, since 1993, when women were mandated by Congress to be included as participants in clinical research," she says.
Evidence-Based Oncology
Dr. Woodruff is featured in the article "Fertility Preservation in Young Cancer Patients". Advances in diagnostic tools and treatment have led to increased numbers of cancer survivors. However, some treatment options pose fertility risks to young cance patients and it is the mission of Dr. Woodruff and the Oncofertility Consortium to educate patients and their families on fertility preservation options.
Science 2034
In the blog post "Ensuring Cancer Patients Can Realize the Dream of Parenthood", Dr. Woodruff writes about Oncofertility -the term she coined to decsribe the intersection of oncology and fertility-and why she hopes to eliminate the field in the next 20 years. 
Northwestern University, Feinberg School of Medicine, Office of Communications
The work of Dr. Woodruff and colleagues is featured on the News Center Website of NU's Feinberg School of Medicine describing their efforts to build a tissue chip model of the female reproductive tract. The article explains "With their new grant, spanning three years and more than $1.5 million per year, Woodruff's team members will combine the separate reproductive organs into an integrated system that can simulate the body's real biological functions". 
Healio.com
Healio.com/Endocrinology provides highlights of Dr. Woodruff's presidential plenary at the joint meetings of the International Congress of Endocrinology and the Endocrine Society recently held in Chicago. As President of the Endocrine Society, Dr. Woodruff's address included details of a changing Endocrine Society including an increased global view and activism of its' members.
ENDO TV-Endocrine Society
Dr. Woodruff talks to ENDO TV about the conclusion of her term as President of the Endocrine Society and what she hopes attendees gain from the ICE/ENDO 2014 Meeting.
Chicago Sun-Times
The Chicago Sun-Times featured Dr. Woodruff in "The Sitdown: Teresa Woodruff is a driving force for sex equity in medical science". Of sex equity in medicine, Dr. Woodruff said "Sex is a variable that needs to be studied as part of the equation...It's about improving the health of all people."

Northwestern University's Office of Research Discover Website
Northwestern's Office of Reseach's Discover Website featured Dr. Woodruff for her work being the "...driving force behind new NIH policy" to include females -- from cells to animals -- in preclinical research.

WTTW Chicago Tonight
Dr. Woodruff and Dr. Melina R. Kibbe discuss ending gender bias in research on WTTW "Chicago Tonight" and the impact of the recent new policy from the National Institutes of Health (NIH) to include female cells and animals in medical research. Dr. Woodruff and the Women's Health Research Institute's (WHRI) leadership council were a driving force behind the new policy and have been actively advocating for sex inclusion in all levels of research to the NIH and Congress for several years.
Peoria Journal Star
In the article, "Oncofertility: Oncology doctors join forces with fertility specialists to form treatment plans" Dr. Woodruff discusses the importance of newly-diagnosed cancer patients being informed of fertility options before undergoing treatments that could damage fertility.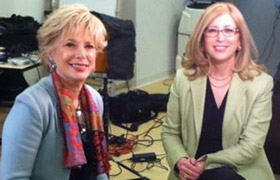 60 Minutes
Lesley Stahl interviews with Teresa Woodruff and Melina R. Kibbe, MD to discuss the importance of sex and gender-based research. Topics include the importance of increasing the rate of scientific discovery, which impacts women's health and well being. Click here for a clip from that interview.
TIME Magazine
The TIME article, "Fertility and Cancer: Surviving and Having Kids Too," discusses the reproductive impact of cancer treatment, how fertility preservation options can lead to a fertile future for young women, and the personal story of a patient who preserved her fertility with the oncofertility team at Northwestern. In 2013, Dr. Woodruff was also named 112th on Time's List of 100 Most Influential People.
New York Times Editorial
In response to a recent New York Times article "Budget Battles Keep Agencies Guessing" (Business Day, September 4, 2013), Dr. Teresa Woodruff wrote the following response: Sequestration is about more than red tape and bureaucracy. Huge budget cuts threaten the lives of millions of patients counting on medical innovation.
By slashing investments in medical research, the government hinders efforts to develop treatments for diabetes, cancer, infertility, osteoporosis, hypertension and thyroid conditions. Because of cuts in financing, my lab will not be able to examine important questions about how environmental pollutants have an impact on reproductive health. That is a disservice to the public living in contaminated communities and a career buster to students interested in reproductive biology.
When laboratories lose financing, they lose people, ideas, innovations and patient treatments. Our government leaders must prioritize biomedical research. We can't afford to lose the health advances made through research financed by the National Institutes of Health and the people power behind those discoveries!
TedEx (http://www.tedx.northwestern.edu/)
The TedEx event explores how multidisciplinary teams work together to understand the complicated process of fertility and investigates questions such as:
Why is the mystery of life so complex?
Why do we need chemists, biologists, ethicists and engineers to unravel this mystery?
How do we facilitate relevant research that transcends the boundaries of established disciplines?

New York Times
The New York Times article "After Cancer, Fertility Is Often Within Reach", discusses fertility preservation options for young cancer patients and the promising future of a new delivery system for chemotherapy that delivers drugs in microscopic bubbles, or nanobins, that dissolve once inside the acidic environment of a tumor, sparing the reproductive organs. "Today 80 percent of kids will survive," Dr. Woodruff said. "Now that patients are thriving and have decades of life ahead of them, fertility is a high priority for them."
Delta Sky Magazine
Dr. Woodruff discusses the importance of sex-differences and the emergence of studying gender at the bench in the article "The Gender Divide". "We're at a really important juncture in science and medicine where so many new discoveries are being made, and it's very important that we are looking at male and female biology to make sure the next generation of advances can be done in a sex-specific way."
Crain's Chicago Business
In 2010, while recovering from neurosurgery, Chicago advertising executive Nicole Torrillo was diagnosed with breast cancer, discovered she had a genetic predisposition for ovarian cancer and underwent a bilateral mastectomy. In April 2103 Ms. Torrillo celebrated the birth of her first child, a daughter, who was delivered 2/13/13 via cesarean section.
As recently as 2005, Ms. Torrillo's story might not have had such a happy ending. Nine years ago, fertility and family planning did not have a place in the course of cancer treatment—in Chicago or anywhere else.
That Ms. Torrillo was able to have that difficult conversation is thanks in large part to the staff of the Oncofertility Consortium and Reproductive Endocrinology and Infertility Clinic at the Robert H. Lurie Comprehensive Cancer Center of Northwestern University.
To read more, click here.
For a complete list of Dr. Woodruff's newsworthy headlines, visit the News Archive and Press Releases.